The Best Travel Luggage for You
These days, finding the best travel luggage isn't easy. Travelers have a plethora of options at their disposal. There are hard-shell rollers. Soft-shell duffels. Three-piece kits. Backpacks. Sling packs. And more.
It's enough to drive any road-weary traveler bonkers.
That's why we've taken the time to sort through some of the noise in order to bring you what we consider the best travel luggage around.
All of these items solve some sort of travel problem and come highly recommended by us.
We took product quality, size, price, and even reviews on other websites into consideration. No stone left unturned, as they say.
But before we begin, we need to go over a few things in order to make sure you find the right luggage for you.
How to Choose Your Luggage
Before we even get into all the cool products and see what's on the market, we really need to start at square one. This question should be at the forefront of your mind when choosing the best travel luggage for your needs.
What type of travel will you use your luggage for?
Where do you travel most often? Throughout the United States, or internationally? Are you an adventurous traveler that needs utility more than space? Do you travel mainly by airline and stay in upscale hotels? Does your back hurt just thinking about carrying a bag anywhere?
These questions, and others, need to be answered before you can really nail down what type of bag you need.
For instance, we do a lot of outdoor travel and prefer duffels that can double as backpacks. Preferably waterproof or water-resistant, considering I spill things all the time and we run into a fair amount of poor weather.
However, you may need a four-wheeled hard-shell case for your vacations. Or maybe even a great carry-on just large enough for a weekend getaway.
Whatever it is that takes you on the road, it's always a good idea to find the best travel luggage for your particular travel style. It can save you some headaches (and money) down the road.
Size Considerations
Perhaps the main factor in deciding which suitcase or bag to purchase is size.
Will you need a monster carryall you can stuff to the gills? Or will you need a smaller bag for just a few items?
Here are just a few questions to answer before you break out the wallet:
How long are most of your trips? The longer the trip, the more you may need to bring with you.
Do you typically carry on your luggage, or are you okay checking it? If you plan to carry everything on, then making sure you comply with airline size limits is a must.
Are you a road tripper? Make sure your bag will fit in the trunk/overhead carrier/backseat.
What type of packer are you? If you absolutely must bring everything you own, then a small carry-on won't suffice.
How many souvenirs, if any, will you need to bring home with you? Most everything you purchase on your trip will need to go back with you in your luggage.
We fly regularly, but also spent nine months living in a van, so when we look at luggage, we don't need the biggest and the baddest. Our favorite bags can be carried or rolled comfortably and without much effort.
I've had some humongous rollers that pushed up against the airline weight limits. However, they almost always ended up broken and battered after just a few years.
The bigger they are, the harder they fall. And airline baggage handlers aren't always the most careful—especially with big, heavy bags.
Keep that in mind when you're eyeing that gigantic suitcase that looks as if it could carry a full-grown human adult.
Carry-on Sizes
This is where things can get really messy. Seemingly every airline posts different size guidelines for what will fit in their overhead bins.
Trying to put together a comprehensive list would necessitate an entire post. We may do so in the future, but until then, here is a handy list of major carriers and their size restrictions.
Here's a general rule of thumb to keep in mind when thinking about carry-on sizes:
If you purchase a carry-on that is 22″ x 14″ x 9″ or smaller, you should adhere to the size guidelines for almost all of the major airlines. (That's 56 cm x 36 cm x 23 cm for you metric system folks out there.)

Note: these measurements include wheels and handles.
Because we routinely check our luggage while flying or go on extended road trips with our bags, we're going to focus on larger-style bags designed to be checked at the airport or stuffed in the trunk of your vehicle.
Still with us?
Good. Because we have a few more questions we need to answer before we show your our list of the best travel luggage.
Hard Shell vs. Soft Shell
Honestly, when you're trying to find the best travel luggage, this debate can come down to personal preference. Plenty of travelers prefer soft-sided luggage with some structure. Others won't go anywhere without a hard shell to protect their belongings.
Decide what is important for you: a bulletproof exterior that may or may not fit in smaller spaces, or the ability to squeeze an extra item or two into your bag.
Hard Shell Pros
Provide greater security than soft-sided bags
Generally waterproof and can withstand worse weather
Protects breakables better than softer bags
Some are amazingly lightweight
Hard Shell Cons

Cheaply made hard shells can crack quite easily
They're generally not expandable
Won't fit into tight spaces or compress like soft-sided bags
Can become scratched and worn after just a few trips
Soft Shell Pros
Typically expandable, which allows for extra packing
Can fit into tighter spaces and won't break apart when dropped
On average, pretty light to carry
Decently durable for regular air travel
Soft Shell Cons
Not totally waterproof, which can be trouble when traveling in certain areas or during certain times of the year
The corners show a lot of wear and tear pretty quickly
Prone to ripping after extended usage
Wheels, Wheels, Wheels
Nearly every piece of luggage you'll see in an airport has at least two wheels. The reason for this is simple: rolling suitcases are extremely easy to handle, save your back from weight, and can be easily found in stores.
But how many wheels are right for you?
Here are some things to keep in mind when deciding whether or not to look at two-wheeled suitcases, four-wheeled suitcases, or bags with no wheels at all:
Two-wheeled (rolling) suitcases feature fixed wheels that only allow you to push or pull your bag as you go. These wheels are also built into the body of the suitcase and typically stay protected very well.
Four-wheeled (spinning) suitcases typically feature four wheels that allow you to move your bag in whichever direction you see fit. The adaptability is nice, but if you've ever tried to deal with a spinner on a hill, you'll know that they have a propensity to roll away.
Duffel-style bags eschew wheels altogether. This means they can fit in a lot of places wheeled bags cannot. However, the downside here is obvious: you'll need to carry the bag everywhere you go.
We've had many different suitcases over the years, and for our travels, duffel-style bags (with backpack straps for carrying) fit our needs the best.
Think again about where you're going, what you like to do, and you should be able to determine how many wheels are right for you.
Figure Out Your Budget
Another huge question you must answer before purchasing your new piece of luggage is this: How much are you willing to spend to find the best travel luggage for you?
Knowing your budget can be the difference between finding a good deal and being let down with your options.
For us, spending several thousand dollars on a piece of luggage would be outrageous. We don't need any designer suitcases. In fact, we don't own designer anything.
Our budgetary concerns revolve around trying to find the best value for our money without going overboard.
The suitcases and bags we're going to talk about here all cost less than $600, with most in the $100-$300 range. Your budget might vary, as will your tastes.
Keep in mind that if a deal looks too good to be true, it probably is.
Aesthetics
How many times have you seen nothing but black suitcases on the luggage carousel at an airport? Yeah, us too.
There's nothing wrong with a simple, black bag, but these days options abound for travelers looking for something unique.
While what your luggage looks like won't affect how it performs, be sure to decide if you're good with solid black or if you want something a bit more jazzy.
Finding the Best Travel Luggage Warranty
What good is a piece of luggage if it's only going to fail you?
We like to think that having a good guarantee or a good warranty is a must. Sure, things happen and the occasional bad egg will slip through even the best production lines.
But the better companies stand by their gear so that you don't have to worry.
Keep this in mind when you're looking for the best travel luggage.
Our Picks for the Best Travel Luggage
We've narrowed down the wide range of suitcases and bags to the list below. Keep in mind, however, that you need to find the right luggage for your style of travel.
Answer all the questions we've posed above and you should be able to figure out if one our recommendations is right for you.
This list is in no particular order. So without further ado, on to our picks!
Why we love it:
The hidden dirty laundry bag is a nice added bonus
The simple, clean design
Roomy interior perfect for packing anything you need to bring
Best features:
Separate sections for clothing and harder items, such as shoes
The wheels are dubbed as "whisper quiet," and we have to agree
Smaller Away suitcases nest inside this one for easy storage
Nice selection of colors
Why we love it:
It's a hard-sided suitcase that also expands!
Who doesn't love Swiss Army products?
Victorinox offers a pretty intensive warranty program that covers the luggage for up to 11 years
Best features:
Expandable design allows for 47% more capacity if needed
Heavy duty exterior
Eight-wheeled design for a smooth roll in any direction
Why we love it:
Samsonite is well-known for its quality products
Diamond-shaped texture keeps the exterior scratch free
Great quality-to-price ratio
Best features:
Built with a mounted Travel Sentry lock
Robust polycarbonate shell resists dings and dents
Divided main compartment allows for organized packing
Why we love it:
Very lightweight for a polycarbonate piece of luggage
Sleek, clean design looks very modern and stands out from other bags
Brushed finish on the shell reduces visibility of scratches
Best features:
Comes with a three-digit TSA travel lock
Recessed single-post main handle allows for maximum packing space
Divided main compartment for organized packing
Why we love it:
One of Delsey's best sellers for many years
Relatively lightweight for its size
Great design and durable finish
Best features:
TSA accepted lock for security
Very smooth double-wheel construction for smooth handling
Soft-touch handles for carrying the suitcase, if necessary
Why we love it:
Briggs and Riley's LIFETIME warranty
Smart features for travelers always on the go
Ability to purchase replacement parts
Best features:
Outer nylon fabric is durable and lightweight
Expands 2.5″ for additional packing space
Handy SpeedThru pocket for quick storage of items at security checkpoints
Why we love it:
The Cordura® Eco outer material is made from recycled plastic (hooray for sustainability!)
OGIO is known mostly in the golf industry, but they make quality products
100% satisfaction guarantee with a limited lifetime warranty
Best features:
Four 360-degree spinning wheels
Divided packing spaces allow you to pack one large compartment or two smaller half compartments
Singe-piece molded back panel built with exceptional abrasion resistance
Two outer, lung-style pockets with compression straps allow for easy access to outer items
Why we love it:
We've used Thule car racks for years and trust their customer service and quality
Sleek design
Oversized wheels that work great in crummy weather or on rough roads
Best features:
Piggyback strap that allows you to attach your backpack or a small laptop bag
Divided main compartment
When standing, there's an easy-access opening on the top
The nylon and molded polycarbonate exterior is water-resistant and quite durable
The Hybrid Roller Backpack
Why we love it:
Comes in both men's and women's models
Awesome hybrid backpack/roller design
Perfect checked luggage for exploring many different types of destinations
Best features:
Easy to pack with a large front panel
Mesh back panel and backpack straps (including hipbelt!) stores easily in a zipped compartment
Oversized wheels and heavy-duty chassis allow it to go where many other pieces of luggage would struggle
Weighs only 6lbs.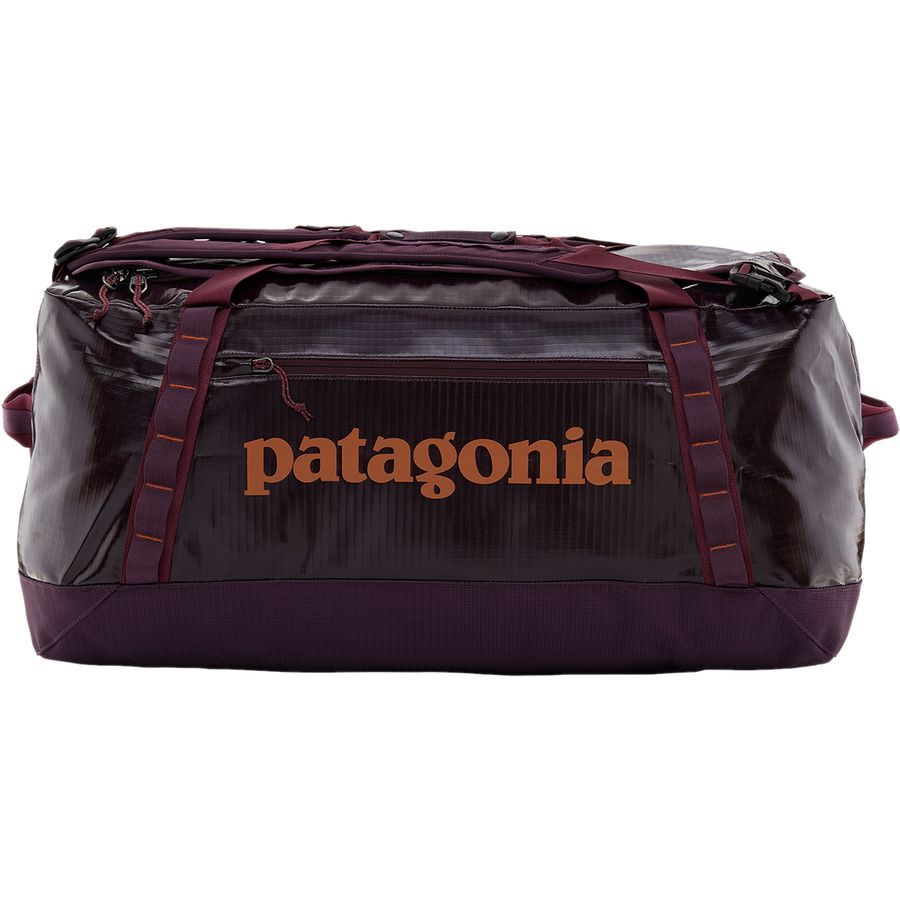 Why we love it:
Patagonia, as a company, is one of our favorites due to its conservation efforts
Weather resistant and utilitarian in design, made from a recycled polyester
Optional backpack straps make carrying a breeze just about anywhere you need to go
Best features:
Extremely lightweight
Durable and tough for a duffel bag
Can pack into itself and stores in a small space
Why we love it:
Totally waterproof and can withstand any kind of weather just about anywhere
Comfortable to carry with the backpack straps
Peace of mind when traveling with items that we'd like to keep dry
Best features:
Able to go anywhere and designed for adventure travelers
Puncture and abrasion resistant exterior material
Heavy duty zipper creates an air-tight seal
Conclusion
As you can see, there are options for just about any style of travel out there.
We love pieces of luggage that can serve multiple purposes and that can protect our belongings from all kinds of weather.
Figure out what it is that you need most from your next suitcase or duffel bag. Utility? Space? Smooth wheels?
The options are endless, but we hope that this gives you a good idea about where to begin.
Don't forget to share this story and let us know in the comments if there's anything we're missing from this list!